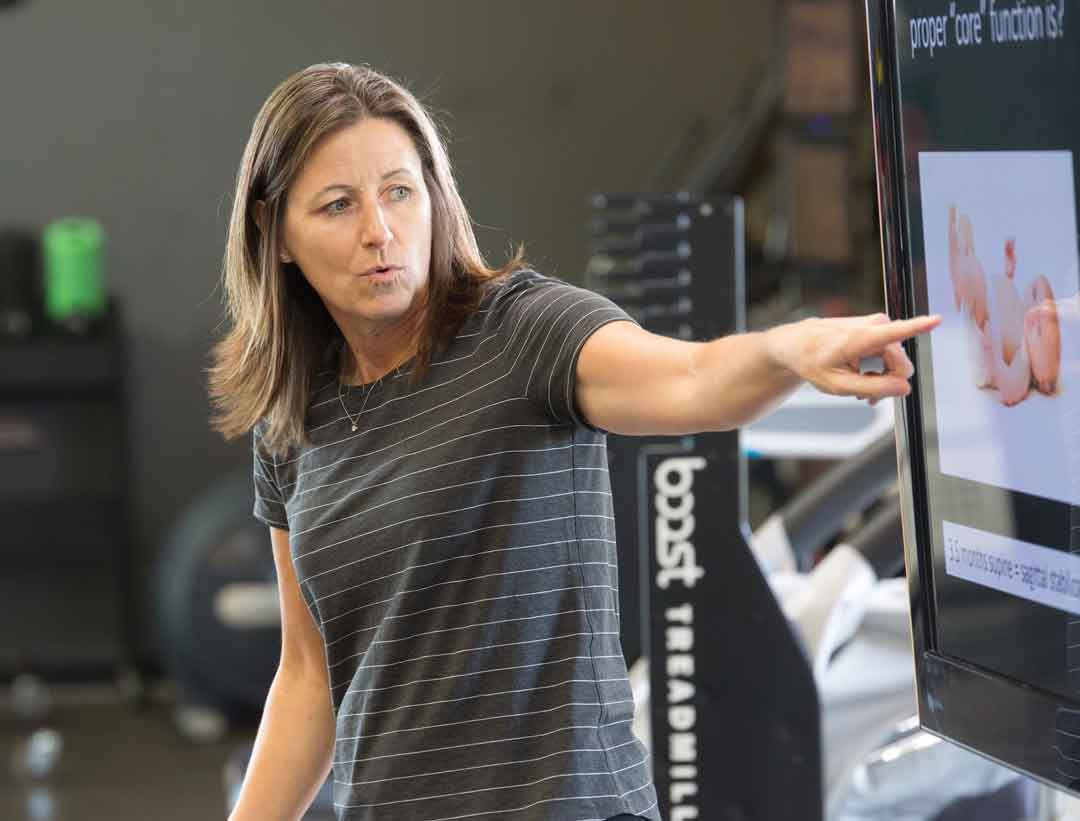 Here to help you breathe.
The Core360 Belt was created out of a passion for helping people move and perform optimally in their daily lives.
Our founder, Erin McGuire, a dedicated physical therapist for over 28 years + international DNS instructor, recognized the critical importance of proper breathing and core activation in achieving peak performance, reducing pain, and preventing injuries.
Erin's vision led to the creation of the Core360 Belt - a groundbreaking product that guides users to breathe and activate their core effectively. Designed to support users at all fitness levels, the Core360 Belt is an essential companion for athletes, those recovering from injuries, and anyone looking to improve their physical well-being.
At Core360, we believe that the key to a healthy and active lifestyle lies in understanding and mastering the connection between breathing and core activation.
Frequently Asked Questions
We offer three Core360 Belt variations to cater to different needs: the Original, Breathe+, and IAP+. The Original is ideal for most users as it targets the primary waist level. Breathe+ focuses on lower rib cage expansion, while IAP+ emphasizes lower abdomen activation. Pick the one that suits your goals best, or use all three.
Wrap the Core360 Belt snugly around the designated level (waist, lower rib cage, or lower abdomen) based on the belt variation you're using. The belt provides sensory feedback to help you achieve proper breathing and core activation during exercises and daily activities.
Yes! Developed by a physical therapist, the Core360 Belt encourages proper breathing and core activation, which can help in pain reduction, injury recovery, and prevention of future injuries. Always consult with a healthcare professional for personalized advice.
Absolutely! The Core360 Belt is designed to help athletes improve their performance by optimizing breathing and core activation. It can assist in strengthening core muscles, enhancing overall movement quality, and reducing the risk of injuries.
The frequency of use depends on your personal preference. Consistently wearing the Core360 Belt during exercises can reinforce and strengthen new muscle patterns, helping you maintain gains and progress more easily. You can also use it periodically to reinforce proper breathing and core activation.
Absolutely, you can incorporate the Core360 Belt into your daily activities. It's designed to bolster proper breathing and core activation patterns while offering crucial sensory feedback to improve your overall movement and posture.
However, bear in mind, the Core360 Belt is an active training tool—it should be worn when you can dedicate some focus to your breathing or core activation. As you integrate it into your daily activities, it's advisable to begin by wearing it during shorter activity bouts and gradually increase usage time as your breathing and core muscle endurance improve.
Maintaining your Core360 Belt is straightforward. For cleaning, hand wash the belt using mild soap and water, then allow it to air dry. Avoid using harsh chemicals or bleach, as these can damage the belt.
Before washing, we recommend removing the pockets, turning them inside out, and taking out the foam half balls. Regular inspections of the belt for signs of wear is advised, and replace the belt as required for optimal performance.
Yes, rest assured, these openings are intentional. We occasionally receive queries from customers concerned about what appear to be 'defects'—such as a hole, incomplete sewing, or the half balls slipping out.
Typically, these issues arise when the pockets have been inadvertently turned inside out, allowing the half balls to escape, or revealing the pocket openings. For the Breathe+ model, the opening is specifically designed to allow easy insertion and removal of the half balls. Your product is not defective—it's simply part of the innovative design!
We're here to help! Feel free to reach out to our team with any questions or concerns you may have. We're committed to supporting you on your journey to better breathing, core activation, and improved overall performance.
Reach out to Core360 Belt